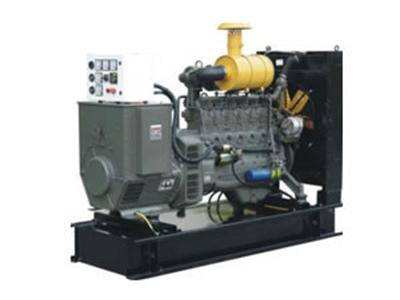 Deutz Diesel Engine Powered 28-120kW Deutz Diesel Generator
The 28-120kW Deutz diesel generator powered by Deutz (Sino-Germany) series diesel engine, is equipped with famous brushless excitation alternators of Marathon and Stamford, and intelligent control panels.
With automatic protective device, Deutz diesel generator can automatically control and regulate the water temperature, oil temperature, oil pressure, and speed. It has many advantages such as automatic speed regulation, automatic voltage regulation, good dynamic performance, stable fluctuation of voltage, high efficiency, high reliability, long service life, and more. These generators can be combined as a power station group with automatic start system in accordance with customer's requirements.
DEUTZ was founded 1864 in Cologne, Germany. Now DEUTZ is the world's oldest engine manufacturer. DEUTZ, with annual sales of about Euro1,200 million, is one of the leading independent suppliers of diesel and gas engines in the world.
Detailed Information of Deutz Diesel Generator (28~120kW)
| | |
| --- | --- |
| Power output range | 25-150kVA |
| Engine model | D226B-3D, TD226B-3D, TD226B-4D, TD226B-6D, TBD226B-6D, TDB226B-6D5 |
| Alternator | a) Marathon (Sino-USA) b) Stamford (Sino-UK) |
| Rated voltage | 100-400V |
| Rated frequency | 50/60Hz |
| Mode of connection | single or 3 phases |
| Rated power factor | 0.8 (lagging) |
| Wave distortion | less than 10% |
| Power supply voltage | 24V |
| Volt fluctuating | < 0.5% |
| Volt / frequency fluctuating | ≈0.5 |
Features of Deutz Diesel Generator (28~120kW)
1) Small volume, light weight, low noise, low fuel consumption
2) Water-cooling with water tank and fan
3) Start by key / auto start
4) Monitoring meters and control switches
5) Protection provided for short-circuiting over-current, over-speed, high water temperature and low oil pressure
6) Soundproof / weatherproof canopy is optional
7) Supply scope of standard parts: industrial type silencer, exhaust pipe, flexible exhaust bellows, vibration-damping rubber, lead-acid battery, connecting cables of battery, users' manual and technical papers
Specifications of Deutz Diesel Generator
1) Engine
a) Multi-cylinder in-line or VEE engine, 4-stroke, direct injection
b) Naturally aspirated, turbocharged, water cooled or turbocharged with air intercooler
c) Mechanical or electronic governor
d) Fuel injection pump
e) Electric motor starting system
f) Forge steel crankshaft, cast iron cylinder and replaceable wet type cylinder liner
g) Low discharge, and low fuel consumption
h) Installing conveniently, and maintaining easily
2) Alternator (Marathon / Stamford)
a) Brushless, self-excited, 4-pole, single bearing
b) AVR self-regulated
c) IP21 protection grade, class H insulation
d) Voltage regulation rate ±1%
e) Radio interference restraining accords with the stipulations of VDE0875-N and GB/T2820
f) Moisture-proof, sand-proof, dust-proof, salt-proof and vibration-proof
g) Small volume
h) Light weight
Daewoo Industrial Diesel Generator 60Hz 220V/440V
Deutz Series Generator Set 50Hz 230V/400V
Model
Power (kw/kVA)
Engine Model
Alternator Model
Dimension
Weight
Prime
Standby
Open Type
Sound Proof
Open Type
Sound Proof

RDL28

28/35
30.8/38.5
D226B-3D
LSA43.2S1
1650×760×1350
2500×1000×1500
720
1450

RDL40

40/50
44/55
TD226B-3D
LSA43.2S35
1650×760×1350
2500×1000×1500
740
1450

RDL54

54.4/68
59.8/75
TD226B-4D
LSA43.2L68
2000×760×1400
2650×1000×1550
1000
1700

RDL80

80/100
88/110
TD226B-6D
LSA44.2S75
2200×800×1500
2900×1080×1650
1250
1850

RDL100

108/135
118.8/149
TBD226B-6D
LSA44.2S75
2300×800×1550
3200×1080×1650
1450
2150

RDL120

120/150
132/165
TBD226B-6D5
LSA44.2M95
2400×800×1550
3200×1080×1650
1500
2350
Deutz Series Generator Set 60Hz 220V/440V
Model
Power (kw/kVA)
Engine Model
Alternator Model
Dimension
Weight
Prime
Standby
Open Type
Sound Proof
Open Type
Sound Proof

RDL32-60

32/40
35.2/44
D226B-3D
LSA43.2S1
1650×760×1350
2500×1000×1500
720
1450

RDL44-60

44.8/56
49.2/61.6
TD226B-3D
LSA43.2S35
1650×760×1350
2500×1000×1500
740
1450

RDL64-60

64/80
70.4/88
TD226B-4D
LSA43.2L8
2000×760×1400
2650×1000×1550
1000
1700

RDL94-60

94.4/118
104/130
TD226B-6D
LSA44.2VS45
2200×800×1500
2900×1080×1650
1250
1850

RDL120-60

121.6/152
133.7/167.2
TBD226B-6D
LSA44.2M95
2300×800×1550
3200×1080×1650
1450
2150